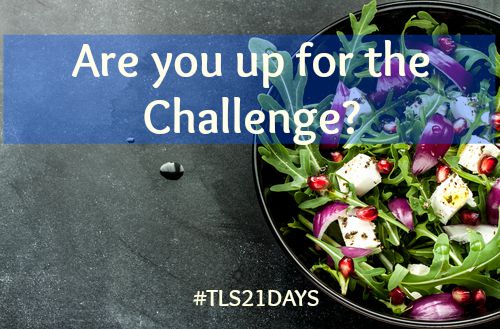 TLS® Weight Loss Solution is excited to announce our latest innovation — the TLS 21-Day Challenge! We believe weight loss should be simple, because our lives are stressful enough without adding in complex weight loss regimes. Getting in shape should be fuss-free and achievable, which is why we've developed the TLS 21-Day Challenge.
So, who can participate in this Challenge? Anyone can take it — whether you need to lose 5-20 pounds or want to jumpstart a longer weight loss journey! It's all about challenging yourself to improve your health and life in just 21 days.
The 21-Day Challenge comprises of two phases: Phase 1 is a detox cleanse — a fresh start for the body that prepares it for the second step, Phase 2. This is the fat-burning phase, where fat and inches are lost. The Challenge is supported by the TLS 21-Day Challenge Guide, which is a step-by-step guide that contains a day planner, list of power foods and more. For additional support we've also included a food and supplement tracking sheet.
To make getting started simple, we've created a TLS 21-Day Challenge Kit which contains everything you need. The kit consists of the 21-Day Challenge guide, tracking sheet, recommended products, shaker bottle and a 21-Day Challenge pin. The kit includes six of our most effective products to enhance your weight loss efforts and nourish your body with essential vitamins, minerals and nutrients. This includes: our NutriClean® 7-Day Cleansing System, TLS® Nutrition Shake in Creamy Vanilla Flavor, TLS® Nutrition Shake in Chocolate Delight Flavor,TLS®CORE Fat & Carb Inhibitor, Isotonix®Multivitamin and Isotonix OPC-3®.Each formula addresses different processes in your body that hinder your weight loss efforts. Our aim is to give you everything you need to meet your weight loss goals and maintain a healthier and leaner you.
Just like the Challenge, getting started is quick and uncomplicated. Follow these five easy steps to start your own Challenge!
Purchase the TLS 21-Day Challenge Kit. Our highly-acclaimed supplements will enhance your weight loss efforts and give you the energy you need to succeed. Get your kit from tlsSlim.com orSHOP.COM.
Take Before and After Photos. Take photos before starting the Challenge and after you've completed it. See the difference 21 days can make! Once you've finished, send your photos toFindYourFit@marketamerica.com. Top Tip: Don't forget to send in your signed Testimonial Waiver!
Invite your Friends & Family. Ask your friends and family if they want to join you on the TLS 21-Day Challenge!
Get Started. Lose that extra weight in just 21 days!
WIN BIG: As if you needed another incentive to take the TLS 21-Day Challenge, every kit purchased enters you into our exciting Bowflex Max Trainer Giveaway! This incredible machine will give you a comprehensive workout in the comfort of your own home, keeping you fit and healthy! Please note, this competition is exclusively for UnFranchise®Owners. Learn about the incredible Bowflex Max Trainer machine HERE.
Find the healthiest version of yourself today with TLS Weight Loss Solution and the TLS 21-Day Challenge! For more information on the TLS 21-Day Challenge and the Bowflex Max Trainer Giveaway, visit tlsSlim.com.
*These statements have not been evaluated by the Food and Drug Administration. This product(s) is not intended to diagnose, treat, cure or prevent any disease.