Usually, when people think of "salad", they think lots of leafy greens, but that doesn't always have to be the case. There are thousands of ways to make your salad hearty and filling, while still remaining healthy. Take a look:
Chickpea and Tomato Salad With Fresh Basil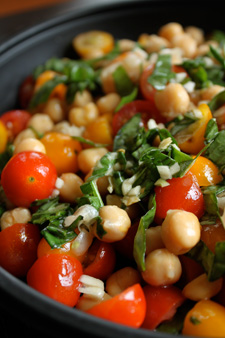 Recipe courtesty of greenlitebites.com
1 can chickpeas, drained and rinsed
About 1 pint grape tomatoes, halved
25 large basil leaves, chopped
3 cloves of garlic, minced
1 tbsp red wine vinegar
1 tbsp apple cider vinegar
2 tsp olive oil
1/2 tbsp honey (10g)
pinch of salt
Toss all ingredients together and chill for at least 20 minutes, allowing all the flavors to blend.
Energizing Protein Power Salad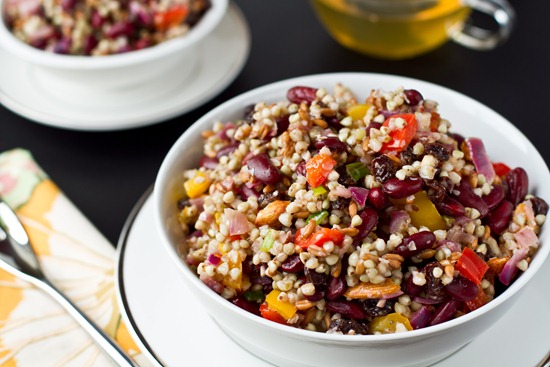 Recipe Courtesty of ohsheglows.com
What You'll Need:
1/2 cup uncooked spelt berries (or wheatberries)
1 cup Raw Buckwheat groats (or grain like quinoa)
3/4 cup uncooked Red Kidney beans (or other bean like chickpeas, black beans)
2 tsp extra virgin olive oil
2 large garlic cloves, minced
1 red onion (or other onion)
1 large yellow, orange, or red pepper (I used mix of yellow and red)
3/4 cup raisins
1/4 cup almonds, chopped
What You'll Need For The Dressing:
1/2 cup fresh lemon juice
1 tsp apple cider vinegar (optional)
3 tbsp extra virgin olive oil
1/4-1/2 tsp garlic powder, to taste
1/2 tsp red pepper flakes, to taste (less if you don't like spicy foods!)
1/4-1/2 tsp ground cumin, to taste
1/2-3/4 tsp kosher salt, to taste (I used 3/4 tsp)
freshly ground black pepper
Directions:
1. Cook your desired grains and beans according to package directions. You can cook everything the night before so save time. Place in large bowl while you prepare the rest of the recipe.
2. In a large skillet, add 2 tsp of Extra Virgin Olive Oil and your 2 cloves of minced garlic. Cook on low for a couple minutes being sure not to burn. Now add in the chopped onion and cook for another 6-8 minutes until translucent.
3. Add in the chopped pepper, raisins, and almonds and cook for another 5 minutes on low-medium heat. Stir as needed. Meanwhile, prepare the dressing in a small bowl using a whisk to mix. Pour all the dressing into the skillet and stir well.
4. Pour the veggie and dressing mixture into the bowl with the beans and grains. Stir well and serve. Makes about 6 cups. The flavour will develop nicely after about 1 hour, but it can be enjoyed immediately too. Store leftovers in containers in the fridge for quick lunches.
Grilled Eggplant With Garlic-Cumin Vinaigrette with Feta and Herbs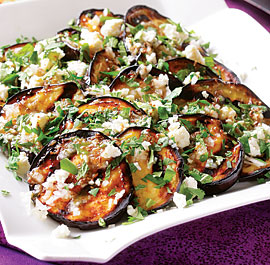 Recipe Courtesty of
finecooking.com
What You'll Need For The Vinaigrette:
1 small clove garlic
Kosher salt
1-1/2 Tbs. fresh lemon juice
1 small shallot, very finely diced
3 Tbs. extra-virgin olive oil
1/2 tsp. cumin seed, lightly toasted and pounded in a mortar or ground in a spice grinder
Pinch cayenne; more to taste
What You'll Need For The Eggplant:
1 large globe eggplant (about 1 lb.), trimmed and cut into 1/2-inch-thick rounds
3 Tbs. extra-virgin olive oil; more as needed
Kosher salt.
1/4 cup crumbled feta
2 Tbs. coarsely chopped fresh mint
2 Tbs. coarsely chopped fresh cilantro
With a mortar and pestle, pound the garlic and a pinch of salt to a paste, or mince the garlic, sprinkle with salt, and mash into a paste with the side of a chef's knife.
Combine the garlic paste and 1 Tbs. of the lemon juice in a small bowl and let sit for 10 minutes. Combine the shallot with the remaining 1/2 Tbs. lemon juice and a pinch of salt in another small bowl and let sit for 10 minutes. Whisk the olive oil, cumin, and cayenne into the garlic mixture. Season to taste with salt or cayenne, if necessary.
Grill the eggplant:Prepare a medium-high charcoal or gas grill fire. Brush both sides of the eggplant slices with olive oil and season with salt. Grill (covered on a gas grill; uncovered on a charcoal grill) until golden-brown grill marks form, 3 to 4 minutes. Turn the eggplant and grill until tender and well marked on the second sides, 3 to 4 minutes more. The interior should be grayish and soft rather than white and hard.
Top grilled eggplant slices with the shallots, feta, and herbs. Whisk the vinaigrette and drizzle it on top. Serve immediately.