by April Laughlin and the TLS Team
It is almost that time of year when we break out the bathing suits. Mortified by the thought of yourself in your suit? I think a good amount of us are. Don't fret; we are going to share the best foods you can munch on while you laze around on vacation this season. Lighten up your summer diet and look your best by eating the best.
Low/no cal beverages
We all love those crisp sodas, smoothies and frozen margaritas during the warm months, but they do not help out our waist lines. Drinks as much water as you can—it will keep you hydrated, refreshed, and not add any unnecessary sugar into your diet. If you want a drink to relax yourself, go for a drink on the rocks with some seltzer water; that way, you won't guzzle your drink as you would a sugary, fruity cocktail. If you still want the fresh taste of a summer drink, try cutting up some fresh cucumbers or herbs of your choice to add a little flavor. Mint, lavender and cardamom make for some pretty delicious flavor infusers!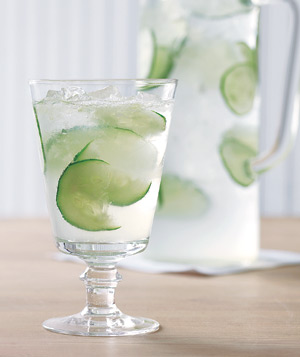 Salads
Salads are light, quick, healthy meals that you can't go wrong with. No recipe is required; just toss in your favorite fruits, veggies, a few nuts and a light vinaigrette dressing. If you like to add some meat in your salad, think of it as a garnish to the greens—don't overdo it.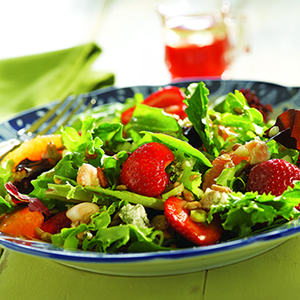 Courtesy of http://www.culinary.net
Chilled, broth-based soups
The coolness of the soup will keep you refreshed during the hot months. Load up your soup with chunky veggies and eat as a meal or a starter. If you have as an appetizer of sorts, you won't eat as much of your meal as you normally would have.
Grilled/Raw Veggies
Grilled veggies are a must have in the summer time. They go great with just about any dish and are healthy fillers for your meals or snacks. You can use them for a salad of throw them on pita for a yummy lunch. Raw veggies are great to munch on if you need something to tide you over.
Watermelon
I don't know about you guys, but I always think of watermelon in the summertime—and usually don't eat much of it unless it is summer! Light, juicy, crisp, fresh—mmm this is a perfect sweet treat to keep you cool.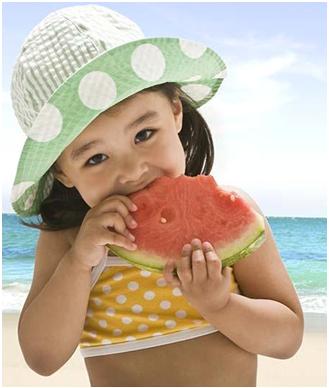 Courtesy of http://www.visualphotos.com
Fruit-based Desserts
Since our craving for sweets don't take a summer vacation, go for the fruity desserts this season instead of the chocolate cake. Opt for the naturally sweet desserts!
What's your favorite summertime food?