by April Laughlin and the TLS Team
Salmon is considered a super food because of all the omega-3 fatty acid it contains. Omega-3 fatty acid is said to help prevent different heart related diseases. For this reason, the American Heart Association recommends eating salmon (or another kind of fatty fish) twice a week.
Try out these recipes:
MARINATED SALMON WITH MANGO-KIWI RELISH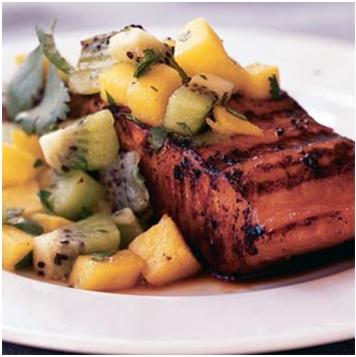 Courtesy of http://www.myrecipes.com
Ingredients for Salmon:
1 tablespoon honey
2 teaspoons low-sodium soy sauce
1 teaspoon olive oil
¼ teaspoon black pepper
4 (6-ounce) salmon fillets
Cooking spray
Ingredients for Relish:
½ cup diced peeled mango
½ cup cubed peeled kiwi
¼ cup chopped fresh cilantro
¼ cup fresh orange juice
Preparation:
To prepare salmon, combine your "salmon" ingredients, excluding the salmon, in a Ziploc bag. Then, you can add the salmon in, seal, and marinate for 10 minutes, stirring occasionally.
While your salmon is marinating, heat a large nonstick pan over medium high heat. Remove the fish from the Ziploc, get rid of your marinade, and coat your pan with cooking spray. Place the fish in the pan and cook for about 5 minutes on each side. (Or to your liking)
Then you simply combine your "relish" ingredients while the fish is cooking and serve it over the salmon.
SALMON WITH LENTILS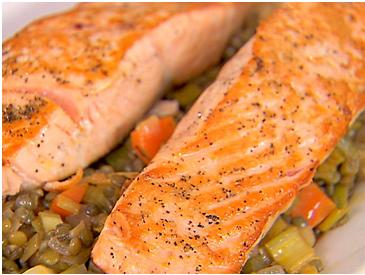 Courtesy of http://www.foodnetwork.com
Ingredients:
1⁄2 pound French green lentils (lentilles du Puy)
1⁄4 cup good olive oil, plus extra for salmon
2 cups chopped yellow onions
2 cups chopped leeks, white and light green parts only
1 teaspoon fresh thyme leaves
2 teaspoons kosher salt
3⁄4 teaspoon freshly ground black pepper
1 tablespoon minced fresh garlic
1 1⁄2 cups chopped celery (4 stalks)
1 1⁄2 cups chopped carrots (3 carrots)
1 1⁄2 cups Homemade Chicken Stock, recipe follows, or good canned broth
2 tablespoons tomato paste
2 tablespoons good red wine vinegar
4 (8-ounce) center-cut salmon fillets, skin removed
Preparation:
Start by placing the lentilsin a heat-proof bowl and cover with boiling water. Set aside for 15 minutes and then drain.
While your lentils are cooking, heat the oil in a sauté pan, add the onions, leeks, thyme, salt, pepper and cook over medium heat for 10 minutes or until the onionsare translucent. Add the garlic and cook for 2 more minutes. Add the drained lentils, celery, carrots, chicken stock, and tomato paste. Cover and simmer over low heat for 20 minutes, until the lentils are tender. Add the vinegar and season, to taste.
Preheat the oven to 450 degrees.
For the salmon, heat a dry oven-proof sauté pan over high heat for 4 minutes. Meanwhile, rub both sides of the salmon fillets with olive oil and season the tops very liberally with salt and pepper. When the pan is very hot, place the salmon filletsseasoning-sides down in the pan and cook over medium heat without moving them for 2 minutes, until very browned. Turn the fillets and place the pan in the oven for 5 to 7 minutes, until the salmon is cooked rare. Spoon a mound of lentils on each plate and place a salmon fillet on top. Serve hot.
Homemade Chicken Stock: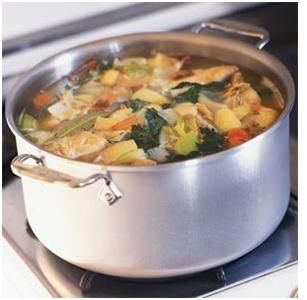 Ingredients:
3 (5-pound) chickens
3 large onions, unpeeled and quartered
6 carrots, unpeeled and halved
4 celery stalks with leaves, cut in thirds
4 parsnips, unpeeled and cut in 1/2, optional
20 sprigs fresh flat-leaf parsley
15 sprigs fresh thyme
20 sprigs fresh dill
1 head garlic, unpeeled and cut in 1/2 crosswise
2 tablespoons kosher salt
2 teaspoons whole black peppercorns
Preparation:
Place the chickens, onions, carrots, celery, parsnips, parsley, thyme,dill, garlic, salt, and peppercorns in a 16 to 20-quart stockpot with 7 quarts of water and bring to a boil. Skim the surface, as needed.Simmer uncovered for 4 hours. Strain the entire contents of the pot through a colander, discarding the chicken and vegetables, and chill. Discard the hardened fat, and then pack the broth in quart containers.
What are your favorite Salmon recipes?