More delicious recipes from TLS to your tabletop! Enjoy!
Roasted Red Saffron Peppers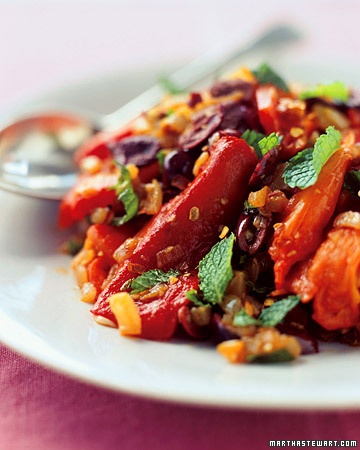 Courtesy of wholeliving.com
What You'll Need:
4 red bell peppers, (about 2 pounds total)
2 tablespoons extra-virgin olive oil
1 medium onion, halved and cut into 1/4-inch-thick slices
2 garlic cloves, minced
1/2 teaspoon paprika
1/4 teaspoon red pepper flakes
1/8 teaspoon saffron
2 tablespoons sherry vinegar
1/2 cup Nicoise olives, pitted
Coarse salt and ground black pepper
2 tablespoons chopped fresh mint
Directions
Heat the broiler. Broil peppers 4 inches from the heat, turning them as their skins begin to blister and blacken, until peppers have blackened all over in a slightly mottled pattern, about 20 minutes. Transfer to a bowl; cover with a towel or plastic wrap. When cool enough to be handled, rub off their skins with your fingers. Cut each pepper in half lengthwise and remove seeds, stem, and membrane. Slice into 1-inch-wide strips. If not using immediately, refrigerate in a glass container.
Heat oil in a large skillet over medium heat. Add onion and cook, stirring frequently until tender, about 10 minutes. Add garlic, paprika, red pepper flakes, and saffron, and cook 2 minutes. Add peppers, vinegar, and olives. Season with salt and pepper, reduce heat to low, and cook another 3 minutes. Stir in mint. Serve.
Egyptian Red Lentil Soup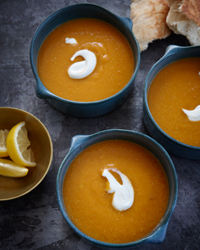 Courtesty of foodandwine.com
What you'll Need:
1 teaspoon ground cumin
1/2 teaspoon ground coriander
1/2 teaspoon ancho chile powder
1 pound tomatoes, seeded and diced
2 cups red lentils (14 ounces)
Salt
Plain yogurt, lemon wedges and warm pita, for serving
2 tablespoons unsalted butter
1 medium onion, chopped
2 carrots, finely chopped
3 celery ribs, finely chopped
3 garlic cloves, thinly sliced
Yam, Zucchini, and Chickpea Salad
What you'll need:
2 yams or sweet potatoes, diced into 1-inch pieces
1 zucchini, diced into 1-inch pieces
1 can chickpeas, rinsed and drained
3 sprigs parsley, leaves finely chopped
2 scallions, thinly sliced on bias